 Custom websites with all of the features you need
WhiskerCloud's website platform is loaded with features: hosting, SEO, security, analytics, digital forms, and everything else built-in.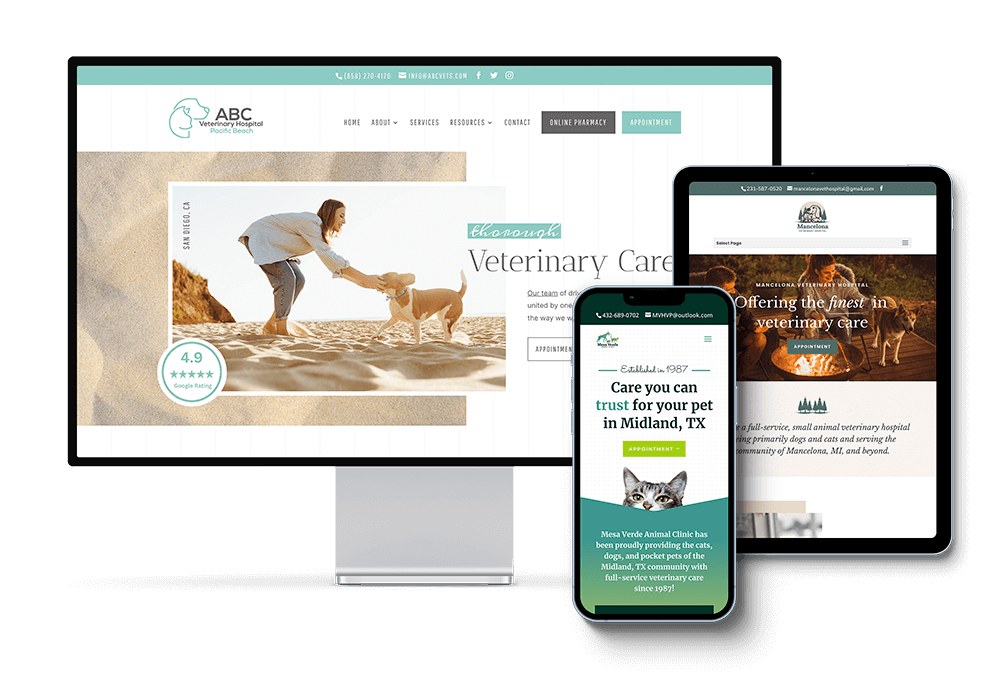 Custom veterinary websites and cloud hosting, made simple
WhiskerCloud's designed a platform that creates beautiful veterinary websites, just how you want them — fully integrated with the latest apps. They also incorporate search engine optimization descriptions and meta tags for Google, offer real-time tracking, and integrate your favorite veterinary and pet portal apps on your website.
Getting started is easy and takes just a few minutes to request a demo. Their support team is just a click away to make sure your website always looks and functions exactly how you want it.
Custom-built, mobile-responsive website
No templates! Using their software, they'll build you a website that fits your needs. You'll be proud to show it off on a computer, tablet, or mobile device—your site will look and function beautifully.
Your own web team
Your site will be run, managed, and updated by your very own team of experts. Have a change? Want to make some updates? They'll take care of it! They're here to answer any questions you may have.
Cloud hosting
Hosted on their cloud server, your site will be blazing fast and ultra-secure! You'll never have to worry about updates or downtime again. Welcome to the future.
Advertising management (ROI)
Are you ready to jump into the world of social media or Google advertising? WhiskerCloud can help get you up and running! They'll continually optimize to increase your ROI!
Search engine optimization
When pet owners search for a veterinarian in their area, they want to make sure your site is visible in search engines. Fully integrated with your new site.
Analytics
Do you know how many people are coming to your website every month? What zip code do they live in? Your dashboard is accessible 24/7 with real-time reporting.
Social media marketing
Let them give you the professional social media channels you've been dreaming about. They'll help you engage current clients and attract new ones. They handle all of it.
Reputation management
They've got your back. They'll watch for negative reviews and work with you to turn them into positive ones. Using listening tools, they see everything said about you online.
More people search from their phones and tablets than desktop computers.
What does that mean for you? Millions of pet owners are searching for veterinarians in their area. If your veterinary website is not mobile responsive, unsecured, or doesn't load quickly – you won't show up, period. Outdated website? They'll move on. WhiskerCloud builds sites that are connected to Google to make sure you get more organic traffic.