Commoditized Veterinary Care
What independent practices need to escape the commodity trap
Impatient clients, stressed out staff that don't stay, and revenue that just won't grow. These are only some of the issues veterinary clinics have been facing over the past two decades. One of the newest challenges clinics face is the growing number of retail stores offering commoditized care for pets. What does this mean for clinics, and what can they do?
a good or service whose wide availability typically leads to smaller profit margins and diminishes the importance of factors other than price and convenience.
In the veterinary space, large chains have used high volume, low cost, and easier access to pet care to threaten independent practice growth.
What effect has commoditization had on veterinary clinics?
2000
Search engines like Google commodified providers' expertise. Questions that clients used to take to their vet, they take to Google.
2010
Review sites like Yelp commodified their reputation. Instead of booking with a clinic recommended by a friend, new clients book appointments at every clinic in their area.
2020
Today, when it comes to providing care, local vet clinics have never faced more competition.
of vet clinics receive regular complaints about their fees
of pet owners have left a clinic because they didn't see the value of the care
of pet owners have left their clinic for alternative care, such as a retail store
How can veterinary clinics thrive amidst commoditization?
Local vet clinics that find success and thrive have figured out how to convert clients that view care as a commodity to clients that put care first.
Clients that view care as a commodity aren't just likely to take chunks of their business to retailers.
Clients who view care as a commodity are:


Lower spenders



Less frequent schedulers, uncompliant



More likely to euthanize because preventable illness wasn't caught



Show up to appointments as pet health experts (with a "degree" from Google University)



The hardest to deal with
Clients that put care first:


Spend more with your clinic



Schedule proactively and stay compliant



Catch health issues early so have healthier pets that live longer



Understand that their veterinary practice is the expert



Are your favorite clients
Which means this for your clinic and staff:
Clients who view care as a commodity:


High staff turnover



More stress



Lower client loyalty



Flatlining revenue
Clients that put care first:


Happier staff (less turnover)



Less stress



Keep their best clients, and find more like them



Flourishing revenue
Thriving clinics re-insert themselves into their clients' decision-making: taking on a proactive, trusted advising role for everything related to pet health.
The most successful veterinary clinics guide their clients to better care and convert "commodity" clients to "care first" clients by:
Educating clients with posters, handouts, and other in-clinic media
Expanding their share of care, selling products and services that don't fill their schedule, but add to a pet's health
Using social media platforms like Instagram, Facebook, and TikTok
Adopting technology that helps support clinics and guide clients to better care
So how does PetDesk help put care first?
PetDesk gives clinics a platform that allows them to step back into clients' decision-making, guide clients to better care, and expand their share of care.
PetDesk offers veterinary clinics:


A single app that connects clients to their veterinarians where they can manage everything related to their pet's health



Easy scheduling and reminders to keep preventative care top of mind



A pet health insurance guide and marketplace for clients



Customizable loyalty programs that incentivize compliance



Texting, payment processing, virtual care, and more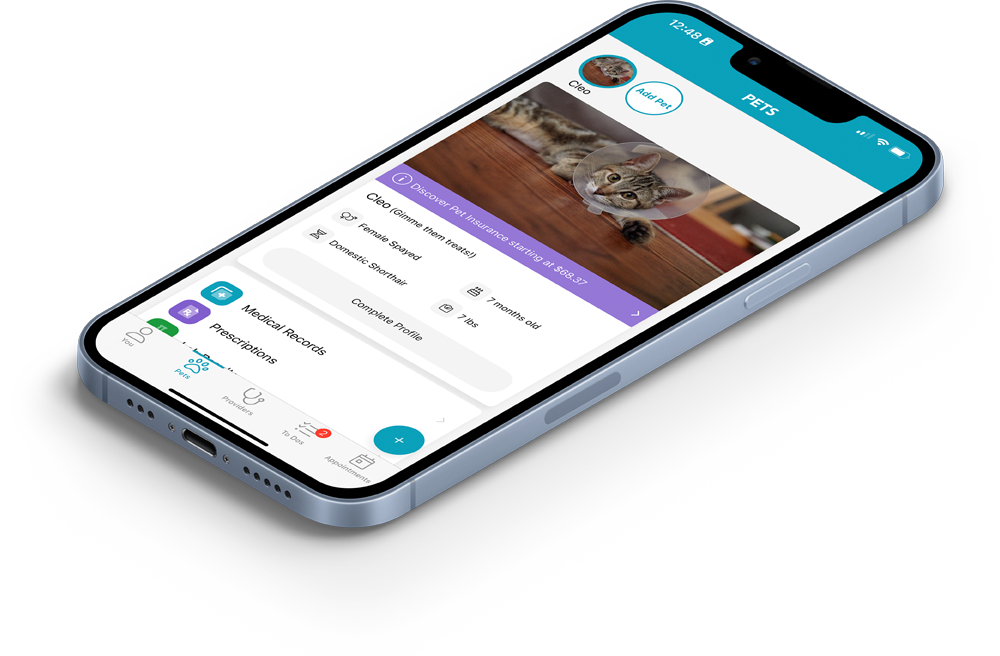 Are you ready to help guide clients to better care?